We are committed to acknowledging the Traditional Custodians of Country throughout Australia, and recognition of their connections to land, sea, and community.
We are also a proud partner of Reconciliation Australia and currently implementing our second Reconciliation Action Plan (RAP), endorsed by Reconciliation Australia. As a consultancy advising on built environment outcomes across Australia, our work can result in a significant impact on Country; change to communities, places, or how land is used. We have therefore sought to ensure the actions within our RAP are reflected in our day-to-day business values, operations, and projects.
It is also our belief that engagement and collaboration with Aboriginal and Torres Strait Islander, and non-Indigenous peoples, not only demonstrates respect for communities and living cultures, but creates better places for the benefit of all Australians.
Our RAP seeks to champion diversity, inclusion, and cultural change in the workplace – not simply the introduction of a new policy.
Our RAP comprises numerous actions relating to training, diversity and inclusion, and Aboriginal participation across all levels of business, including future employment and scholarship opportunities. These actions are partnered with clearly identified deliverables, timeframes and responsible persons assigned to each action.
The RAP program's strength is its framework of relationships, respect, and creation of opportunities, allowing Ethos Urban to set its reconciliation commitments in line with its business objectives, for the most effective outcomes for the organisation and the communities it impacts.
Description of artworks by Belanjee
The three artworks together bear similarities and harmony of the lands and climate they each belong. Enclosed within each painting lies a centralised circle with the common Aboriginal symbol of a campfire - a meeting place to illustrate Ethos Urbans main office and its expanding growth lines. The three artworks also contain aspects of a river system that express the cultural importance of place and spiritual foundations of sacredness.
The three paintings use mediums of acrylics and inks on canvas and separately depict the unique colours of the climate of each state where Ethos Urban are located. Each space holds its own purity and statement of cultural place, filtered by shadows that cascade across a density of repetitious patterning. The images echo a rhythmical felt experience of our living world while the inter-relating shapes express evolving growth and continuums of life.
Thank you for providing me with this opportunity to create these three pieces of artwork.
Belanjee
(Liz Cameron)
'Gadalung Djarri' (Hot Red Country)
Representing Queensland
The use of reds, purples, pinks and oranges illustrate the tones and natural hues of the Queensland environment, a place of ancient warmth against backdrop of fluctuating terrains. Pink hues along with a criss-cross of patterning's illustrate a sense of playfulness, with correlating lines of pink magenta and fuchsia moving into reds to represent the blood of Country. Along with the use of oranges these colours cultivate a strong visual link between all life and the immediacy we carry with nature.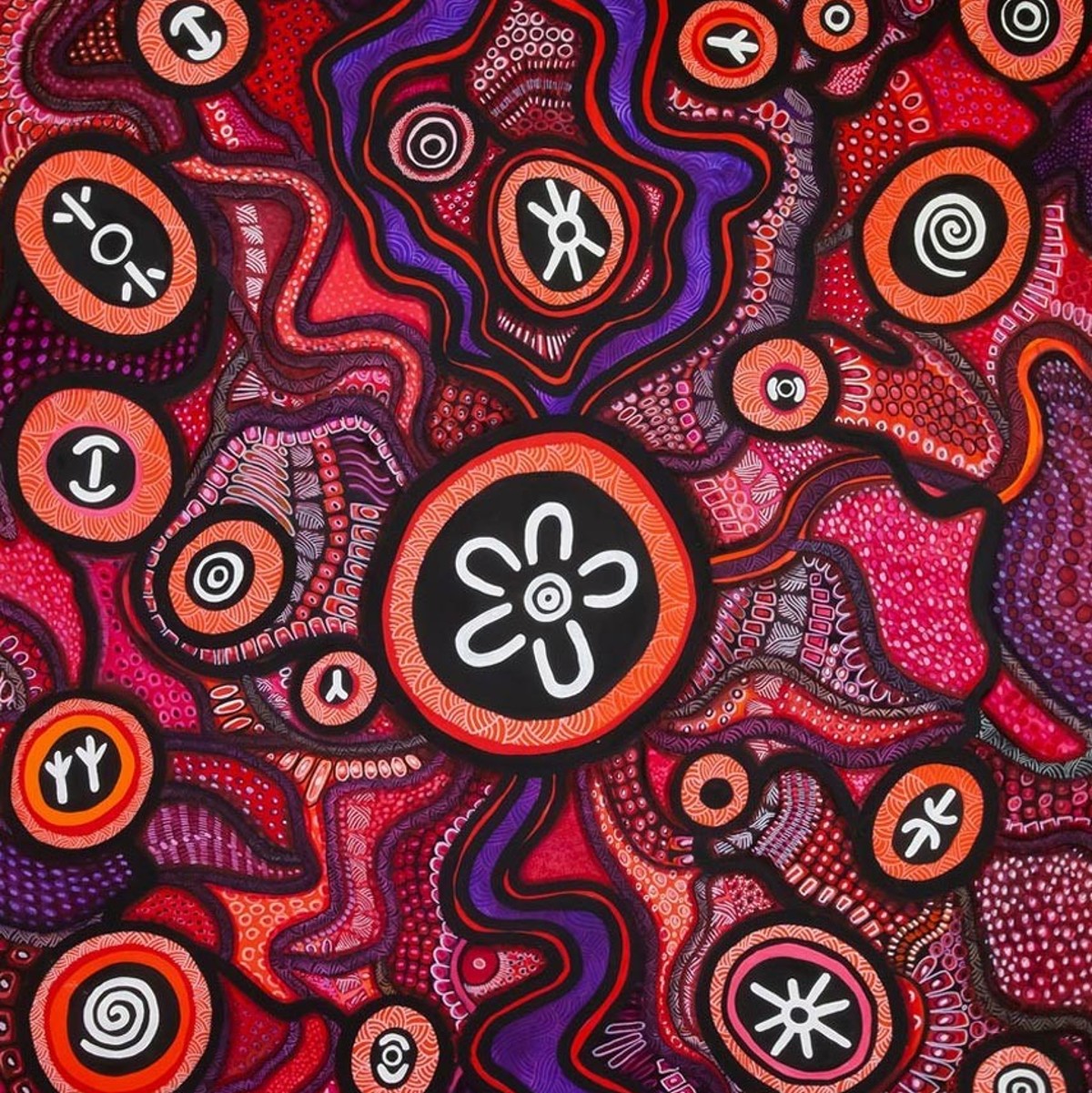 'Gura Bulga' (Warm Green Country)
Representing New South Wales
By using the green and blue colours to represent NSW, this painting unites the contrasting landscapes. The use of green symbolises tranquillity and health. The colour cyan, a greenish-blue, sparks feelings of calmness and reminds us of the importance of nature, while various shades of blue hues denote emotions of new beginnings and growth. The use of emerald green in this image speaks of place as a fluid moving topography of rhythmical connection, echoed by densely layered patterning and symbolic shapes which project the hypnotic vibrations of the earth, waterways and skies.
'Dagura Buumarri' (Cold Brown Country)
Representing Victoria
The river system illustrated in this visual image is bound in greens and golds to acknowledge the warmth often felt in a colder climate. The rich earth hues of green, reds and browns reflect the local landscapes of this state while the extensive use of rhythmical patterning captures the unique landscapes of flat and mountainous areas. The use of earth colours imparts a sense of strength and serenity while contrasting greens throughout the image reminds us of the lushness of the natural world, where animals and humans once lived in harmony - it reminds us of the importance to protect the lands, waterways and skies and care for our localised environment. Scattered throughout the image are bold colours of oranges - a source of energy that continues to be felt as a life-giving source. The orange hues also portray the varying sunsets in which many Victorians enjoy seeing.